Basque Athletes in Rio Olympics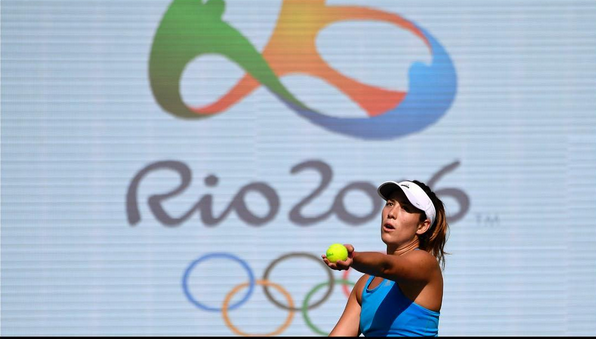 Hang on for a minute...we're trying to find some more stories you might like.
Every Olympics, some Basque athletes are always present, usually representing Spain or France. This year we've tracked down the following Basque Olympians. If you know of any others, tell us about them in the comments below and we'll add them to our list. BAT Basque Team is an online presence on Twitter and Facebook following Basque athletes at the Olympics. Most of their tweets are in Spanish and Basque. Also, EITB has a listing of the events of Basque athletes.
RELATED STORY: Basque kayaker wins gold in Rio Olympics
SPAIN
Canoe Slalom, Men's
Ander Elosegui
Age 28
From Irun, Gipuzkoa
Elosegi came in 2nd place in the semifinals and 8th place in the finals of canoe slalom.

Canoe Slalom, Women's
Maialen Chourraut
Age 33
From Lasarte, Gipuzkoa
She won a bronze medal in the 2012 Olympics. She came in 11th in Rio preliminaries and goes to semifinals on Thursday, Aug. 11.
Canoe Sprint
Iñigo Peña
Age 25
From Zumaia, Gipuzkoa

Cycling, Men's – Road
Jonathan Castroviejo
Age 29
From Getxo, Bizkaia
Professional road bicycle racer for the Movistar team.
Castroviejo came in 4th place in Men's cycling timed trials.

Imanol Erviti
Age 32
From Irunea-Pamplona, Nafarroa
He is a professional road bicycle racer for the Movistar team.

Ion Izaguirre Insausti
Age 27
From Ormaiztegi, Gipuzkoa
He is a professional road bicycle racer for the Movistar team.
He won one of the stages of the recent Tour de France.
Cycling, Women's – Road
Ane Santesteban
Age 25
From Errenteria, Gipuzkoa
On Aug. 6, she finished 47 in the Olympics women's cycling race.

Cycling, Men's – Track
Juan Peralta

Age 26
From Figarol, Nafarroa

Entrevistas con las miembras vascas del equipo de
hockey sobre hierba
Field Hockey, Women's

Maialen Garcia
Age 26
From Donostia, Gipuzkoa
Maria Lopez de Eguilaz
Age 32
From Getxo, Bizkaia
Patricia Maraña
Rocio Ybarra
Age 31
From Bilbao, Bizkaia
Handball

Nely Carla Alberto
Age 33
From Donostia, Gipuzkoa
Patricia Elorza
Age 32
From Vitoria-Gasteiz, Alaba

Ainhoa Hernandez
Age 22
From Barakaldo, Bizkaia
Elisabeth Pineda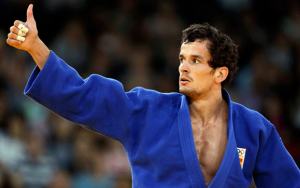 Sugoi Uriarte, judoka, hopes to do better than the 2012 Olympics.[/caption]
Judo
Sugoi Uriarte
Age 32
From Vitoria, Alaba
Competed in the London Olympics.
Rowing
Ander Zabala
Age 24
From Santurtzi, Bizkaia
Rugby Sevens
Amaia Erbina
Ordizia, Gipuzkoa
Age 19
"Mi aita me decía que podía estar en Río"
Barbara Pla
Age 33
From Catalonia, but lives in the Basque Country.
Twitter Barbara Pla

Soccer
Ainhoa Tirapu
Age 32
Irunea, Nafarroa
She plays goalie on the Spanish national team. She plays for Athletic Bilbao.
Shooting
Pablo Carrera
Age 30
Bilbao, Bizkaia
Swimming
Markel Alberdi
Age 24
Came in 14th in the 4 x 100 m freestyle relay. Alberdi broke the Spanish national record for 100 m. freestyle in 2014 at 49.25.
Tennis
Garbiñe Muguruza
Age 22
She is from Caracas, Venezuela, but her father, Jose Antonio Muguruza is from Eibar, Gipuzkoa and she represents Spain in tennis competitions
She beat her idol, Serena Williams, in the 2016 French Open
She has already won her first round in the Olympics, in Women's doubles, with partner Carla Suarez on Sunday Aug. 7
RELATED STORY: Basque Athletes in the 2012 London Olympics
Triathlon
Ainhoa Murua
Age 38
Zarautz,
She has been competing the Olympics in this sport since 2004.