Events – Basque Calendar
The calendar is updated continually as information becomes available. To have your event listed, e-mail Euskal Kazeta at info@euskalkazeta.com. You can also send your newsletter or information to Euskal Kazeta, 1812 Linden Ave., Venice, CA 90291.

Buy the DVD of the 2014 Bakersfield festival previewed here
by Captured Moments

Friday, August 1
Memoria Biziak Workshop
Reno, Nev.
Learn the best way to interview and save the memories
of the elder immigrant generation
1 – 4:30 p.m. workshop run by Pedro Oiarzabal
The Knowledge Center
1664 N Virginia St, Reno, Nevada 89557
Saturday, August 2 – updated!
Mountain Home Basque Festival
Mountain Home, Idaho
1 p.m. – Mass at the Fronton
5 p.m. – Kids games
6:30 p.m. – Adult games
8 p.m. – Oinkari dancers
9 p.m. -12 p.m. Street Dance
Held at the Basque Block, next to the landmark Bengoechea Hotel
Saturday, August 2
2nd Annual Basque Heritage Day
Shoshone, Idaho
Food, vendors, sheep camps and family history displays
12 noon – Lecture on Basques and the Spanish Civil War: David Lachiondo
2 p.m. Brent Barras of Canyon Studios will show the documentary "Basques in the West"
The Shoshone Cemetery will be decorated with Basque flags.
For vendor information, to be part of the sheep camp or to put up a family history display,
contact Kathy Oneida, (208) 886-2648 or Rachel Oneida (208) 490-1567.
Lincoln Fairgrounds
201 S. Beverly
Saturday, Aug. 9
Gardnerville Mendiko Euskaldun Picnic
Gardnerville, Nev.
11 a.m. Meza (Mass) celebrated by Fr. Lasteri & Klikas
1 p.m. BBQ lunch: lamb, chicken, lamb stew, beans, salad, cheese, ice cream & wine
$25 per adult & $10 per child under 12
3 p.m. Dance Performances by Mendiko Euskaldun & Reno Zazpiak Bat Basque clubs
4:30 p.m. Haurren Jokaldi (Children's games)
6 pm Txorizo sandwiches
8 p.m. Dancing, with music by Jean Pierre & Manuela Etchechury
11:30 pm Baratxuri Salda (Garlic Soup)Esmeralda and 6th Street in nearby Minden
CVIC Hall
1602 Esmeralda Ave. Minden
Saturday, Aug. 9
Seattle Summer Picnic
Lake Sammamish, Wash.
11 a.m. – 7 p.m. Lamb and chorizos provided; families are welcome to bring potluck dishes
Games, dancing, music, food and mus
Members: $10 adults, $15 families; non-members: $15 adults, $20 families Lake Sammamish State Park
2000 SW Sammamish Rd., Issaquah
See link for map and directions
Sunday, Aug. 10
Colorado Summer Picnic
Golden, Colo.
12 – 4:30 p.m. Raffles, games, dancers and food
Salt Lake City dancers will perform
Lion's Park, 1300 10th St.
For information: Mayi (303) 868-0906
Friday, August 15
17th Annual Winefest
Boise, Idaho
5:30 – 9:30 Basque Block in downtown Boise
This annual event is the Basque Museum's largest fundraiser of the year.
Participants receive a commemorative wine glass to sample the unique selection of over 100 domestic and imported wines that local producers and area distributors pour through the evening.
Pintxos will be served by participating restaurants.
The event also includes a silent auction and performances by the Oinkari Basque Dancers.
Tickets: Before day of event $30; Day of event $35.
Advance tickets are available at a reduced price of 4 for $100 until August 8.
More information, call (208)343-2671
Saturday, Aug. 23 – Sunday, Aug. 24
BCC Euskal Etxeko Jaialdia
South San Francisco, Calif.
Annual festival
Saturday
3 p.m. Presentation by Pulitzer Prize winner Warren Lerude
on his book, Robert Laxalt, the Story of a Storyteller
Basque Cultural Center
599 Railroad Ave.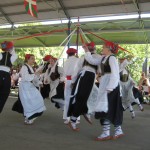 Sunday, Aug. 31
Chino Basque Festival
Chino, Calif.
Chino Fairgrounds
Central and Edison Avenues

Friday, Sept. 5
Mus lessons
South San Francisco, Calif.
On Fridays in September (Sept. 5, 12, 19, 26), the cultural center will offer mus lessons.
Participants will learn rules, vocabulary, the flow of the game and strategy in time to
participate in fall tournaments.
RSVP to etcharren@msn.com
Basque Cultural Center
599 Railroad Ave.
South San Francisco
Sunday, Sept. 7
Marin-Sonoma Basque Festival
Penngrove, Calif.
Penngrove Community Park
11800 Main St.
Lunch will include barbecue chicken, garbanzo beans, salad, bread and cheese.
12:30 – 2 p.m. Lunch
Reservations are greatly appreciated. Call (707) 792-9258.
Sunday, Sept. 14
Mus lessons
Denver, Colo.
3:30 – 5:30 Lessons on the Basque card game
1441 W. 46th Ave. Unit 13
Contact information: Mayi at (303) 868-0906
Sunday, Sept. 28
Fundraising Mus Tournament
South San Francisco, Calif.
A mus tournament to raise money for
the Basque Educational Organization
Basque Cultural Center
599 Railroad Ave.

Saturday, Oct. 4
Txirrindulari Bike Ride
San Francisco Bay Area
Txirrindulari Bike Ride gains popularity
October 18
Fermin Muguruza & Tania De Sousa
San Francisco, Calif.
July 28 – August 2, 2015
Jaialdi
Boise, Idaho