Events – Basque Calendar
The calendar is updated continually as information becomes available. To have your event listed, e-mail Euskal Kazeta at info@euskalkazeta.com. You can also send your newsletter or information to Euskal Kazeta, 1812 Linden Ave., Venice, CA 90291.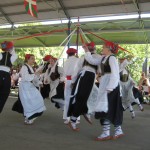 Thursday, Dec. 11
Oinkari Basque Dancers: the history, mystery and destiny of Idaho's great treasure!
Boise, Idaho
5:30 p.m. Join the Basque Museum & Cultural Center, Boise State Basque Studies and the Oinkari Basque Dancers for a once-in-a-lifetime event! We will be interviewing five of the original seven members that ventured to the Basque Country in 1960 to start what is now going into its 55th year! Dr. John Bieter will emcee the event, and everyone is welcome to come participate in interviewing these five Oinkaris. The event will be held at Boise State BoDo.
Friday, Dec. 12
Olentzero Washington DC'ra Dator
Washington D.C.
6:00 p.m. Potluck party and Olentzero will travel all the way from the Basque Country to join us shortly thereafter (hopefully no later than 7p.m.) We'll read the story of Olentzero and if all of the children have been good this year, he'll be bringing gifts for each of them! (So parents, please bring a wrapped gift with your child's name on it for Olentzero to hand out). Please bring your favorite dish to share with everyone as well as whatever you would like to drink.
(202) 965-5552
Zengo Txoko
5422 1st Street Northeast
Sunday, Dec. 14
Christmas Mass and Luncheon
South San Francisco, Calif.
Basque Cultural Center
599 Railroad Ave.
Saturday, Dec. 20
Holiday Dinner & Sheepherders Ball
Boise, Idaho
This year's event is benefitting 17-year-old Jared Ellis.
The dinner will be followed by the ball. The Oinkaris will perform at 8 p.m., followed by the lamb auction which raises funds for the Basque charities account. The dance, featuring Amuma Says No, will begin after the lamb auction.
Basque Center
601 Grove St.
Wednesday, Dec. 31
New Year's Eve Celebration
South San Francisco, Calif.
Basque Cultural Center
599 Railroad Ave.
Sunday, Jan. 25
Members free lunch and Mus tournament
South San Francisco, Calif.
The members' free lunch and mus tournament will be held on the fourth Sunday in January instead of the third and the mus tournament will be competed in one day instead of two. More details will be posted when they are available.
Basque Cultural Center
599 Railroad Ave.
Jan. 31, 2015
Dinner Dance
Salt Lake City, Utah
St. Ambrose Hall
6:30 p.m. Social 7:00 p.m. Dinner
The club will hold a raffle for Basque items and
we will also have a performance by the local dancers,
Utah'ko Triskalariak. The NABO
winter meeting will also be held in conjunction with the dinner-
dance.
1975 So. 2300 East
Salt Lake City
Saturday, Feb. 14 and Sunday, Feb. 15
Basque Cultural Center Anniversary Celebration
South San Francisco, Calif.
Basque Cultural Center
599 Railroad Ave.
July 28 – August 2, 2015
Jaialdi
Boise, Idaho
Saturday, Nov. 7, 2015
Basque Cultural Day – Pilota Eguna
South San Francisco, Calif.
Free Admission
7:30 p.m. Basque Cultural Center
599 Railroad Ave.