Events – Basque Calendar
The calendar is updated continually as information becomes available. To have your event listed, e-mail Euskal Kazeta at info@euskalkazeta.com. You can also send your newsletter or information to Euskal Kazeta, 1812 Linden Ave., Venice, CA 90291.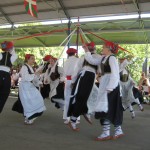 Tuesday, Oct. 28 – Friday, Oct. 31
Sausage Making
Boise, Idaho
Euzkaldunak, the Basque Center, will be making mortzilas, or blood sausage for the Annual Mortzila Dinner & Bingo on November 1. If you are interested in learning more about mortzilas, helping with the process, read this article.
Basque Center
601 Grove Street
Saturday, Nov. 1
Annual Mortzilak Dinner and Bingo
Boise, Idaho
This dinner is open to the public. No reservations are required. It will be a "first come, first served" meal. The menu will include:
Menu: Mortzillak, solomo with pimientos, white fish with pipparade sauce, tossed salad. garbanzos and chorizos, pumpkin pie
The first seating will begin at 5:15 PM, and the second seating will begin at 6:30 PM. The price for the dinner is $15 for adults and $6 for children 10 and under. Wine and other beverages can be purchased in the dining room.
Basque Center
601 Grove St.
Monday, Nov. 10
Hammer of Witches Night
Ontario, Oregon
6:30 p.m. You are invited to explore an intriguing but dark chapter of Basque history, XVII century Basque witch hysteria, through film and literature. Lisa Corcostegui will present a brief introduction on the sociocultural context in which these events unfolded. The film Akelarre (1984) will be shown. (This film is not appropriate for children.) A discussion of Begoña Echeverria's new historical novel, Hammer of Witches (2014). Book orders will be taken at picnic and at Monday meeting. The book is also available online.
Tuesday, Nov. 11
Living Museum: Basque Folk Dance and Oinkari Basque Dancers
Boise, Idaho
5:30 – 7:30 p.m. Five of the original seven members of the Oinkari Basque Dancers will join for an historic interview. They will speak of their experiences as Basques in Boise before Oinkaris were formed, their decision to create such an historically significant group and their hopes for the future of Oinkari Basque Dancers. John Bieter will emcee the event. The event is free and open to the public.
Boise State BoDo building
301 S. Capitol Blvd.
Thursday, Nov. 13
Mapping Basque Sheep Ranching and Raising in Idaho
Boise, Idaho
5:30 p.m. Iker Saitua, PhD candidate at University of Nevada and intern at the Basque Museum will be presenting on his research about Basque sheepherders in Nevada as well as information on those that he has collected in Idaho. For more information, click here.
Basque Museum
601 Grove St.
Thursday, Dec. 4
Basque Museum Open House Sale
Boise, Idaho
There will be snacks and spirits for everyone beginning at 5:30 p.m. and discounts storewide (10%, 20% for members). New products and great gift ideas for everyone! There will also be music, free admission, and guided tours of the Cyrus Jacobs/Uberuaga House.
Basque Museum
601 Grove St.
Saturday, Dec. 21
Sheepherders Ball
Boise, Idaho
Basque Center
601 Grove St.
Wednesday, Dec. 31
New Year's Eve Celebration
South San Francisco, Calif.
Basque Cultural Center
599 Railroad Ave.
Sunday, Jan. 25
Members free lunch and Mus tournament
South San Francisco, Calif.
The members' free lunch and mus tournament will be held on the fourth Sunday in January instead of the third and the mus tournament will be competed in one day instead of two. More details will be posted when they are available.
Basque Cultural Center
599 Railroad Ave.
July 28 – August 2, 2015
Jaialdi
Boise, Idaho
Saturday, Nov. 7, 2015
Basque Cultural Day
South San Francisco, Calif.
Free Admission
7:30 p.m. Basque Cultural Center
599 Railroad Ave.