Events – Basque Calendar
The calendar is updated continually as information becomes available. To have your event listed, e-mail Euskal Kazeta at info@euskalkazeta.com. You can also send your newsletter or information to Euskal Kazeta, 1812 Linden Ave., Venice, CA 90291.

Buy the DVD of the 2014 Bakersfield festival previewed here
by Captured Moments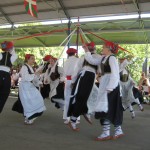 Saturday, Oct. 25
Annual Fall Dinner
Homedale, Idaho
Chef Jesus Alcelay will be preparing potato & leek soup, Onati salad, roasted red potatoes, Alaskan Cod Romana, roast beef with mushroom sauce, bread, wine & rice pudding for the annual Fall Dinner.
5 p.m. No-host social hour
6:30 p.m. Dinner
Tickets $20 per person, children 6-12 $10 and under 6 are free. If you would like to support Txoko Ona and enjoy an amazing meal, call John Lejardi at (208) 337-3840 for tickets.
Txoko Ona
333 S Main St.
Tuesday, Oct. 28 – Friday, Oct. 31
Sausage Making
Boise, Idaho
Euzkaldunak, the Basque Center, will be making mortzilas, or blood sausage for the Annual Mortzila Dinner & Bingo on November 1. If you are interested in learning more about mortzilas, helping with the process, read this article.
Basque Center
601 Grove Street

Saturday, Nov. 1
Annual Mortzilak Dinner and Bingo
Boise, Idaho
This dinner is open to the public. No reservations are required. It will be a "first come, first served" meal. The menu will include:
Menu: Mortzillak, solomo with pimientos, white fish with pipparade sauce, tossed salad. garbanzos and chorizos, pumpkin pie
The first seating will begin at 5:15 PM, and the second seating will begin at 6:30 PM. The price for the dinner is $15.00 for adults and $6.00 for children 10 and under. Wine and other beverages can be purchased in the dining room.
Basque Center
601 Grove Street
July 28 – August 2, 2015
Jaialdi
Boise, Idaho
Saturday, Nov. 7, 2015
Basque Cultural Day
South San Francisco, Calif.
Free Admission
7:30 p.m. Basque Cultural Center
599 Railroad Ave.